CBC News

Posted: Mar 14, 2014 4:21 PM ET

Last Updated: Mar 14, 2014 4:21 PM ET
Getting a Taste of Sew Hungry
Hamilton's annual food truck festival hosted a taste test Wednesday afternoon.
Sew Hungry
has become so popular, it received almost twice as many applicants as it can hold this year. So today, rookie trucks had a chance to show judges why they deserve a spot on Ottawa St.
These food trucks pulled out all the stops today, and they had to. The Ottawa Street Business Improvement Area received applications from as far as Toronto, Kitchener, Niagara, offering up all kinds of delicious eats.
http://www.chch.com/getting-taste-sew-hungry/
Food trucks set to carve their own niche into Waterloo Region's restaurant industry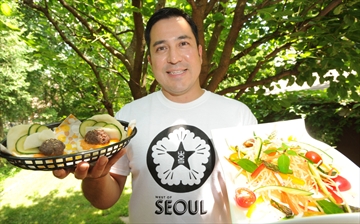 Philip Walker,Record staff
Born and raised in Kitchener, Christopher Kim, owner of West of Seoul Food Truckm "would love to be able to be a part of growing the food truck scene and culture there."
By Bob Vrbanac, Chronicle Staff